About Dorr Aviation
At Dorr Aviation you can expect nothing but the best. Our history in the industry distinguishes us as the oldest aircraft financing company, which makes us equipped to give you the premier aircraft financing experience.
We are:
Pioneers – Dorr Aviation was started by Mel Dorr in the 1960s as a Cessna and Piper dealer out of the Marlborough, Massachusetts airport (our sign is still visible!). Mel then began to finance the airplanes he sold through small, local banks. The business has grown over the years but we've remained one of the top aircraft finance companies in the general aviation community with over 12,000 aircraft loans closed.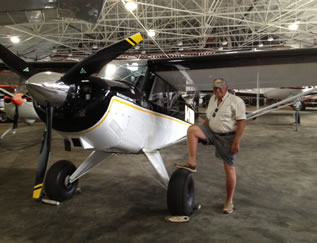 Mel Dorr with his 2011 Husky A1B
Customer-centric – It's in our DNA! We always answer your phone call – with a real live person (no automated systems here)! You will work with only two people (and the same two people) throughout the process: a business developer and a loan coordinator. We also go above and beyond to work with you throughout the life of your loan so you can contact us even after the closing.

Not a bank – We do work with banks but we can sift through their red tape for you.  We also understand FAA regulations and can ensure that your aircraft ownership is properly perfected with the FAA.

Industry experts – Whether you need us to review specs, provide insights or offer informed recommendations, we'll work closely with you throughout the aircraft financing process.

The Trusted Name in Aircraft Financing – Our experience, industry knowledge and years of service make us the trusted name in aircraft financing.
"The quality of service offered by Dorr Aviation Credit Corp. has been highly impressive. Every aspect of service provided by the Dorr Team was exceptional. From first contact, to the documenting of the transaction, it was straightforward and excellent. 5 Star!"
William K. | Piper Aerostar owner